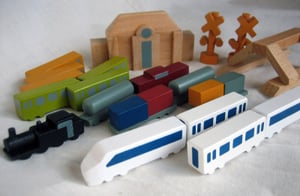 $

24.00
perfect for train enthusiansts, or people who love blocks (ages 3+).
this set of wooden trains include a station, trestle, 2 railroad crossing signs, passenger and freight train cars, a black engine and caboose, some cargo containers, and flat bed train cars. painted or varnished wood.
the largest piece is the station, which is 8 cm long and 4 cm tall. most of the train cars are 4 cm long and 1.5 cm tall. there are 26 pieces total.
comes in a cloth bag with a an outline drawing of the train pieces, and the words 'gare' on one side and 'railway station' on the other
shipping is airmail from japan, which takes 7-10 days on average to international destination. if you would prefer to upgrade to EMS shipping, which is secure, trackable, express air from japan, let me know.
made by the japanese company muji as part of a holiday line of goods from years past, and therefore availability is limited.
because of the small pieces and choking hazard, this item is not suitable for small children.