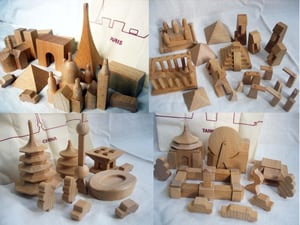 $

28.00
perfect for anyone who is fascinated by world architecture, or just likes blocks and/or urbanism (ages 3+).
available sets are paris, china, taiwan, and world heritage.
the sets have varnished wooden pieces that include skyscrapers, iconic buildings, and structures, and cars and buses. the tallest buildings are about 10 cm tall, the cars are 1.25 cm tall. comes with a drawstring cotton bag that has the name of the set printed on it kyoto
shipping is airmail from japan, which takes 7-10 days on average to international destinations. if you would prefer to upgrade to EMS shipping, which is secure, trackable, express air from japan, let me know.
made by the japanese company muji as part of a holiday line of goods, availability is limited. because of the small pieces and choking hazard, this item is not suitable for small children.